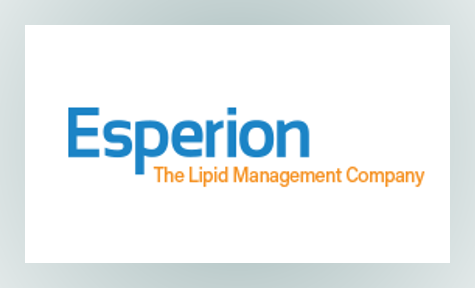 May 2, 2018
This morning, ESPR delivered positive Phase III safety data for bempedoic acid (BA).  Despite delivering a highly significant 20% LDL reduction for those on treatment – expectations were for 20-30% LDL reduction based on several previous BA studies. The low-end for efficacy combined with safety concerns unrelated to treatment with the drug development candidate have driven the stock down by more than a third, and excessively in our view.
Highly Significant Reduction in LDL and CRP Although Less Than Previous Trials
Esperion announced positive top-line results from the second pivotal, Phase III study (Study 1 or 1002-040), the long-term safety study of bempedoic acid 180 mg, in this case evaluating the safety, tolerability and efficacy of bempedoic acid versus placebo in high-risk patients with atherosclerotic cardiovascular disease (ASCVD) who are inadequately controlled with current lipid-modifying therapies, including maximally tolerated statin therapy. The study included 2,230 patients and met the primary endpoint of safety and tolerability and the key efficacy endpoint with on-treatment LDL-C lowering of an additional 18% at twelve weeks  (p<0.001) in the intent-to-treat analysis. Patients treated with bempedoic acid also achieved a significant reduction of 22% in high-sensitivity C-reactive protein (hsCRP), an important marker of the underlying inflammation associated with cardiovascular disease.
Safety Issues Overblown
BA's safety has been confirmed in multiple Phase II and the first Phase III trial. The incidence of Any adverse events (AEs) and/or serious AEs were identical in both arms – 78.5% BA vs. 78.7% placebo AE; 14.5% BA vs. 14.0% placebo. In this most recent study, the key safety subgroup analysis that caused the problem was Fatal Adverse Events-Unrelated To Drug Treatment in the table below.  The trial was randomized 2:1 BA:placebo and absolute deaths were 13 (0.9%) vs 2 (0.3%). For bempedoic acid there were 6 cardiovascular (CV) deaths (5 originally noted as CV and 1 ultimately as CV-related) vs 1 adjudicated as a CV death on placebo. In contrast to the CV death rate, the rate of CV events overall actually favored BA in the study (80-90 CV events in this study including fatal and non-fatal). There were also 5 cancer deaths on the BA arm, some of which occurred very early on (and highly unlikely to be drug related), and 0 in the control arm. The rate of smoking was roughly balanced across groups.  The bottom line in our view is that the randomization with regards BA safety was fine, but just unlucky as with more deaths unrelated to BA occurred. Despite the aggressive tweets and market's strong negative reaction, we believe BA's clean safety profile remains intact.

In our view, this is a gross over-reaction with the shorts taking advantage of a bad tape and investor confusion.  The safety remains strong and in our view, so does the efficacy. The 20% placebo adjusted LDL reduction is a no doubt slightly disappointment, but BA in the mid-20's LDL, or even a 30% LDL reduction was never the most attractive drug candidate.  The synergistic BA combo with Zetia (EZ) has shown the ability to reduce LDL 40+% on top of statins, which in our view makes it an attractive drug candidate.  Being a once a day pill that will be also be priced around $3K per year also adds to its competitive potential.  It will not be long until investors see the additional top-line data from the other three pivotal studies:
Upcoming Milestones
May 2018:

Top-line results expected from the pivotal Phase 3 Study 3 (1002-046) of bempedoic acid in ASCVD patients on background therapy of less than approved daily starting doses of statins (high CV risk patients considered statin intolerant).

August 2018:

Top-line results expected from the pivotal Phase 3 Study (1002FDC-053) of the bempedoic acid / ezetimibe combination pill in ASCVD patients on maximally tolerated statin background therapy.

September 2018:

Top-line results expected from the pivotal Phase 3 Study 2 (1002-047) of bempedoic acid in ASCVD patients on maximally tolerated statin background therapy.
In our view, it will take just one (if not all three) studies to come in the range earlier trials to clear up today's painful stock reaction. With the potential to lower LDL 40+% on top of statins, in our view, the BA/EZ combo remains a formidable LDL lowering drug candidate with its novel mechanism of action.  ESPR remains on track to deliver more positive Phase III data and file for FDA and EU approvals in early 2019. We recommend taking advantage of the current weakness.
---
ESPR is a BUY under 75 with a TARGET PRICE of 100.