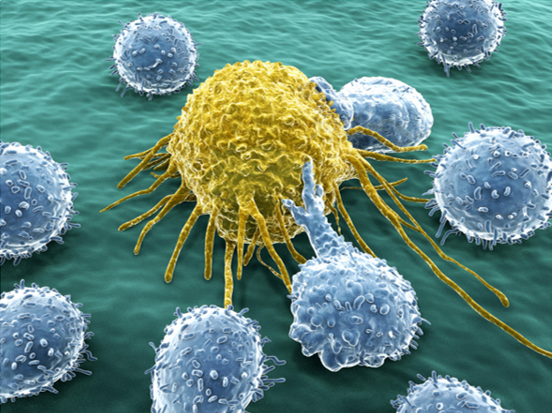 December 7, 2013
INCY's IDO & Cancer Immunotherapy – Treating cancer with immunotherapy has become one of the major "Hot New Classes" over the last year as the science, compounds and subsequent studies have demonstrated the ability to significantly extend the lives of cancer patients. Immunotherapy for cancer has historically been associated with the direct stimulation of cytotoxic T-cells through vaccines or cytokines, which can have a direct affect on reducing tumor burden until resistance develops.  An exciting subset of immunotherapy is the emerging class of checkpoint inhibitors to treat cancer.  This new class of drug candidates target immune checkpoints — inhibitory signaling pathways that switch off T cells and lead to immune resistance to cancer drugs.   Extensive attention is now being paid to overcoming the immune resistance of tumors as a novel strategy for cancer therapy. Big pharma is leading the way, although a majority of the compounds have been derived from biotech acquisitions (e.g., BMY bought Medarex, Roche bought Genentech), and smaller companies including INCY are joining in the class.
The approval of BMY's Yervoy (ipilimumab which targets CTLA-4) to treat melanoma was a major breakthrough for cancer immune therapy – the drug had failed in multiple direct solid tumor trials before BMY harnessed its potential and garnered approval. Recently ipilimumab showed that some melanoma patients had lived as along as 10 years while on therapy.  In addition to CTL-4, the PD-1/PD-L1 checkpoint pathway has recently emerged as the hottest target for cancer immunotherapy in biotech. (PD stands for "programmed cell death.") And while the aforementioned pathways have been grabbing all the headlines, IDO inhibitors are the next hot target in line behind the PD-1s.  Since the overall outcome of IDO function is an inhibition of the immune response, it joins the proteins CTLA-4 and PD-1 in the group known as immune checkpoint proteins, which has become the newest biotech investment theme of the year.  In our view, INCY's INCB024360, an orally available small molecule (the others are injectable monoclonal antibodies), is rapidly emerging as the next major compound for immuno-oncology.  IDO was one of the most talked about targets at the recent Annual Meeting of the Society for Immunotherapy of Cancer (11/8-10, National Harbor, MD).
What is IDO?  Indoleamine (2,3)-dioxygenase (IDO) is a checkpoint protein involved in generating the immunosuppressive tumor microenvironment that supports tumor growth.  IDO is an enzyme with two isoforms (IDO1 and IDO2) that acts at the first step in the metabolic pathway that breaks down the essential amino acid tryptophan.  As IDO metabolizes tryptophan to kynernine, its activation deprives the important essential amino acid in the tumor environment. Starving T cells of tryptophan limits their ability to be activated by appropriately presented tumor antigen due to a block to cell division, which is required for activation.  The end result of IDO activation is fewer effector T cells but more regulatory T-cells being in the tumor microenvironment. This skewed T cell response leads to an acquired immune tolerance and unchecked tumor growth.
IDO overexpression has been observed in a wealth of tumors, including colorectal, pancreatic, AML, ovarian, squamous cell carcinoma, melanoma and cervical tumors, and is correlated with poorer survival in many cases. Increased IDO protein levels drive growth arrest and apoptosis of the effector T cells, a group of immune cells that includes cytotoxic T cells, helper T cells, and natural killer (NK) cells that mediate the immune system's ability to destroy pathogens. By reducing the number of effector T cells, IDO overexpression prevents the immune system from effectively destroying cancer cells.
Two Theories – IDO exerts its immunomodulatory effects by shutting down the effector T cells of the immune system. Two theories exist as to exactly how it does this:
One View of IDO's Impact on Immunity

CTLA-4 indicates cytotoxic T lymphocyte-associated antigen 4; DC, dendritic cell; IDO, indoleamine‑2, 3‑dioxygenase; IL, interleukin; NK, natural killer. In addition to being expressed on tumor cells, IDO is also expressed on DCs in the tumor-draining lymph nodes. IDO-activated DCs set off a cascade of events that can impair immune responses
The tryptophan starvation theory posits that the local depletion of tryptophan by IDO leads to cell cycle arrest and death of T cells (including dendritic cells, which are sensitive to decreases in tryptophan levels).
While the tryptophan metabolite theory suggests that certain downstream metabolites of tryptophan are toxic to T cells. IDO expression also directly activates the regulatory T cells (a subset of T cells whose major function is to shut down T cell-mediated immunity at the end of an immune reaction).
IDO Data to Date – INCY's lead IDO inhibitor – INCB024360 – is in Phase II development.  Phase I monotherapy data in advanced disease was presented at ASCO 2013 was underwhelming and showed zero objective responses in 52 patients. However, 29% had stable disease for at least 8 weeks, and 15% had stable disease for at least 16 weeks. The side effect profile was quite favorable, especially given limited autoimmune A/Es.  In addition, many patients in this trial were late-stage patients with compromised immune systems that makes it difficult for immune-based cancer drugs to have an effect.  INCB024360 is currently being tested in a broad Phase I/II clinical trial in patients with a variety of advanced cancers (INCYTE IDO).  This is an open-label, single-agent, dose-escalation trial designed to assess the safety and tolerability of the drug and to determine its maximum tolerated dose (MTD).  Patient recruitment is ongoing and INCY should be able to provide an update on this trial by H1:14, hopefully in time for ASCO.  In addition, '360 is also being tested in combination with Yervoy in a Phase I/II trial.  To date, the '360/Yervoy combination is showing encouraging results, which in our view, was foreshadowed by the strong synergy seen in preclinical data.  As is most likely with all checkpoint inhibitors, '360's greatest effect will be in combination therapy with other checkpoint inhibitors.
Strong Potential for Synergy with '360 – Given its role in sheltering tumors from the immune system, IDO makes an ideal target for anticancer immunotherapy.  The key to cancer immunotherapy is the ability to overcome tumor-induced tolerance that antagonizes the function of the immune system and limits its efficacy. This is where drugs that target IDO could potentially make a huge difference. Because IDO expression helps to create this state of tolerance, IDO inhibition could break tolerance and enhance efficacy of other immunotherapy, in addition to chemotherapy and radiation therapy.
Given the excellent safety profile, it would make sense to combine '360 with an anti-PD-1, which is much more tolerable than Yervoy.  '360 is also differentiated from CTLA-4 and PD-1, as these drugs target receptors expressed by T cells and mediate inhibitory signals when engaged with their ligands expressed on tumors or antigen presenting cells. IDO1, on the other hand, is an enzyme that affects T cell activity through metabolic pathways.  In our view, a '360/PD-1 combination has significant potential as it may simultaneously deliver superior efficacy without significant side effects.  This would allow patients to remain on therapy longer, and would also broaden usage in hard to treat cancer patients who are too frail for toxic therapies. In our view, IDO combinations will lead to a wide therapeutic index.
Competition – There are multiple new checkpoints that are targeted by inhibitors under development (e.g., Chk1 and Chk2, ATM and ATR, etc.). In this report, we focus predominantly on the ones in human clinical trials, notably the PDs and IDO. Newlink Genetics is developing an IDO "pathway inhibitor" called indoximod. It is different from '360 in that it has never been able to show that it actually modulates tryptophan and kynurenine levels. Phase I data appears encouraging – four of 22 patients experienced partial responses and 9 of 22 experienced stable disease in a Phase I dose-escalation study in patients with advanced solid tumors – and showed the drug to be well-tolerated (e.g., the most frequent adverse events were fatigue and anemia) and showed some signs of anticancer activity.  Indoximod is currently being evaluated in a Phase II trial in patients with breast cancer. NewLink Genetics also has a program directed at synthesizing other IDO pathway inhibitors.  Several other companies also are directing preclinical research programs at IDO inhibitor development, including iTeos Therapeutics (Belgium), ToleroTech  (Ontario), and Bio-Matrix (San Diego). Early-stage companies with interesting checkpoint research programs include Compugen (NASDAQ – CGEN).
Investment Conclusion – Although early, Incyte's IDO inhibitor INCB24360 may be the Company's most exciting drug candidate.  The ability to work synergistically with other checkpoint inhibitors could have both huge strategic and market value.  As the clear leader in IDO development, INCY is in a strong negotiating position and should be able to choose the best partner.  BMY is clearly the leader in checkpoint inhibitor development with Yervoy already on the market, and a PD-1 and PD-L1 also in development.  Thus, BMY may not need to partner as they can create combinations on their own given the breadth of their checkpoint inhibitor pipeline.  Thus, it would make sense and not be surprising for INCY to partner with either Roche or Merck who only have one PD-1 inhibitor in development and will need to partner in order to develop combination checkpoint inhibitor therapies. Entering 2014, IDO's visibility as the hottest new checkpoint target should only continue to grow. With the value investors have placed on big pharma stocks leading these classes (e.g., tens of $billions), in our view, the leverage to INCY's valuation could be substantial.
CLINICAL TRIALS WATCH – Relevant New Studies or Changes Posted on Clinicaltrials.gov for our MTSL Portfolio and/or Related Companies since last Issue:
CELG – Revlimid and GA101 in relapsed indolent NHL
CELG – Romidepsin and oral-5 azacitidine in R/R lymphoid malignancies.
CELG – Revlimid plus Rituximab followed by Revlimid versus Rituximab maintenance for R/R follicular, marginal zone or MCL (MAGNIFY)
CELG – Phase II study of sotatercept (ACE-011) in patients with end-stage renal disease (in collaboration with XLRN).
GILD – Phase II study of momelotinib in PV or ET 
NKTR – NKTR 102 in patients with advanced or metastatic tumors with renal impairment .
Subscribe to the Medical Technology Stock Letter